( 1/28/2007 08:51:00 AM ) Bill S.


"PEOPLE TAKE PICTURES OF EACH OTHER" – Spent a good part of my Saturday doing volunteer work for WGLT, our local university-affiliated NPR station known for "News, Blues and All That Jazz." The station was holding a fund-raising antiques auction at the Illinois State student union. Yours truly helped out by working Security, a job that basically entailed strolling around the selling area, smiling and looking for suspicious characters, then returning to the station's booth to chat with the on-air talent. (The lovely Laura Kennedy, an aficionado of Swing Era jazz, was the primary GLTer present during my shift – she'd put together a sweet set of Big Band music that was played over the room's sound system.) Don't know what I would've done as Security if I'd come across any terrorists or someone actually shoplifting, but I thankfully didn't have to find out.

Of course, I also looked through the displays: like any good collectibles show, there was so much stuff, it took several walkabouts to catch all of the good stuff. Saw a wooden Popeye pull-toy from 1939 or so that showed him beating on a large can of spinach: the thing was going somp'n like $900, so all I did was look. Came upon a table devoted to Post-Mortem Collectibles: photographs from the 19th Century of families posing alongside open coffins with recently expired loved ones inside. I'd read about these pics before, of course, and had seen samples in articles, but viewing a whole display of 'em was kinda creepy.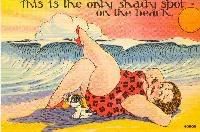 Away from comics and the type of pop culture usually celebrated in this blog, I also have an interest in fat collectibles and related sideshow memorabilia. Found three cartoon postcards at the show (all by personal fave Walter Wellman), going for two bucks apiece. Keep an eye out and postcard collecting can be a fairly inexpensive hobby. I also bought a reproduction photograph of the Ringling Brothers and Barnum & Bailey Combined Circus Side Show from 1933 (not a real collectible since it's a reproduction, of course, but it's still pretty neat looking). Within it, you can see several cast members who appeared in the movie Freaks, along with famous circus fat lady Ruth Pontico (subject of a Ned Sonntag bio strip in DC's Big Book of Freaks, naturally seated in bottom row center. T'was a day well-spent, in other words . . .
# |


---