( 1/20/2009 06:33:00 AM ) Bill S.


STORMY: Lost our oldest cat over the weekend: Stormy, a crotchety gray-haired domestic who we'd adopted from the Humane Society back in Illinois passed away late Sunday. We brought the old cat home when he was a teenager about twelve years ago -- the exact year is lost, but I remember it as a thunderous Spring day (hence the name). As a member of the household, he wasn't the most endearing of critters. Of all the felines that have lived under our roofs, he was perhaps the most Garfield-like: fat, greedy and self-centered. When we brought our newest kitten into the home, Stormy proved most likely to steal her Kitten Chow.

A year ago, we weren't sure that the old guy would survive the trip to Arizona, but he did -- though not without a lotta complaining. He settled in with the rest of the OakHaus Menagerie until about a week ago, when he began yowling more than usual, eating and drinking less and less as the week progressed. On the vet's advice, we got an IV of subcutaneous fluids to keep him from being dehydrated and tried feeding him baby food with a high-calorie dietary supplement called Nutri-Cal. The poor guy stopped complaining but grew weaker and weaker. We kept him away from the rest of the animals (the kitten kept wanting to play with him), bringing him into the living room to feed and replenish his fluids. Sunday night at about 10:45, while we were tending to him, he passed away in front of us.

I got up on Martin Luther King Day with a shovel, found a place in a grove behind our yard, and, with Becky helping to clear out the tree branches, I dug a grave for Stormy. Was my first doing a deep hole in the Arizona -- not as easy digging into the desert clay as it is the Illinois soil -- but together we got it finished. A day later, I'm still feeling the aftereffects of this effort in my back and shoulders.

Aches aside, we're gonna miss the old grump. Even the most contrary of animals can become an inseparable part of your family, and this fat ol' grouch definitely provided testimony to that simple truth. See ya, Stormy . . .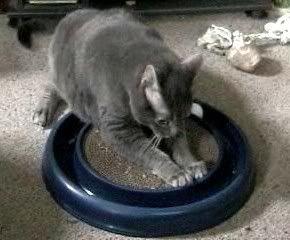 # |


---