( 12/31/2011 09:49:00 AM ) Bill S.


FACE, MEET FAN! Most weekday mornings, I follow a fairly boring schedule: wake up worrying about finances, get up and feed the dogs, start the coffee machine while the dogs follow their morning outside routine, bring 'em back into the house and head for the study to check email and perhaps do a little Blogcritics editing before getting ready for my day job. Pretty mundane. But Friday saw a major break in this routine: getting up to leave the study, I hadn't noticed that one of our 75-plus pound pups was lying on the floor right behind me. I tripped over the big galoot, fell and did a header right into a pillar fan.

The lower half of my face made the most contact -- nose and mouth primarily -- though I also get a major gash on my right hand middle finger where I apparently struck the fan's base. Some heavy bleeding ensued from both nose and finger. Wife Becky heard the commotion from bed and quickly got up to do the Florence Nightingale thing, retrieving the bandages while I worked to staunch the blood flow. Sat in a living room chair with rolled up pieces of toilet paper in both nostrils -- not a good look -- feeling like a clumsy idiot.

The end results could've been much worse: my lower face looks like I got into an argument with a belligerent drunk who passed out before he could do too much damage, my finger's still bandaged and I have a very irritating slice of missing inner lip, but at least I didn't connect with my forehead. Wound up going into work on time without any significant aftereffects, though I popped a lotta generic Tylenol over the course of the day. It's a heck of a way to end the year: battered and bruised.

I feel like a walking metaphor. . .


Labels: me me me

# |


---
( 12/26/2011 04:41:00 PM ) Bill S.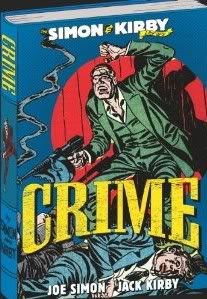 "JUSTICE TRAPS THE GUILTY!" The latest entry in Titan Books' "Simon & Kirby Library," Crime is a hefty 320-page collection of work predominately produced in the forties for the era's "true crime comics." Having already amassed an impressive body of comic book work in the super-hero genre (creating, among others, Captain America), Joe Simon and Jack Kirby turned to other genres when it looked as if costumed crime fighters were losing their young audience. Initially inspired by the success of Lev Gleason's Crime Does Not Pay, these pre-Code comic books -- saddled with evocative names like Real Clue Crime Stories and Justice Traps the Guilty -- attempted to straddle the line between exploitation and moralizing much as earlier Depression Era gangster flicks reveled in the exploits of their anti-heroes. If S&K's work for these titles lacks the over-the-top irony and bloody mindedness of later comics like EC's Crime and Shock Suspenstories, they remain crackling entertainments.

Kirby's pugilistic art is one of the big draws, of course: the guy had a knack for serving up believably ape-like thugs and cheeky dangerous dames, in particular -– in addition to his dynamic action images. There are plenty of wonderful panels in this opulently packaged color collection: one of my faves accompanies the flight and final gun fight of Babyface Nelson, who thinks nothing of running over one of his own men in his flight to escape the feds. One panel, showing a hunted John Dillinger surrounded by floating eyes, looks downright Steve Ditko-esque.

The stories in this collection shift between obvious fictions (e.g., an incomplete series featuring a dapper hero named the Gun Master, as well as another series of tales narrated by "Headline Comics' super-duper snoop 'Red Hot' Blaze") and quasi-historical retellings of famous criminal exploits. A few of the latter (as with the story of Chicago serial murderer H.H. Holmes and his infamous murder mansion) are predominately accurate, while others ("The Last Bloody Days of Babyface Nelson," for instance) are as true as to the facts as Brian de Palma's version of The Untouchables. Crime writer/comics fan Max Allan Collins touches on a few of scripter Joe Simon's factual filigrees in his intro to this collection, but he doesn't try to catch 'em all -– nor should we expect him to. Best to treat the whole she-bang as an outsized display of two great comics creators working at their boyishly most exuberant.

(First published on Blogcritics.)


Labels: golden age goodness

# |


---