( 6/05/2010 06:38:00 PM ) Bill S.
"WE'VE LEARNED AN IMPORTANT LESSON FROM THAT THEREFORE: THINKING IS BAD." The Dungeon saga continues apace with the third volume in this French graphic novel series chronicling the dying days of Joann Sfar and Lewis Trondheim's fantastic funny animal kingdom. Dungeon Twilight -- Volume Three: The New Centurions (NBM) contains two tales set on Terra Amata after the planet has exploded and divided into a series of floating islands. Despite the seriousness of their situation, the surviving characters carry on as if nothing has changed because, really, what else can they do?

The volume features two stories, "New Centurions" and "Revolutions," but for relative newcomers to this series (like me), it's the second tale that makes this comic a must-read. "Centurions," the opener, follows a group of players as they scheme for power in this crumbling fantasy world, and there are times when all the Machiavellian plots get a bit murky for newbies. The only two figures who rise above the occasionally confusing machinations are Marvin the Red, an impulsive scarlet rabbit, and Marvin the dragon (a.k.a. the Dust King). The former has been tasked with teaching an army of dragons how to use a special flying armor even though he himself can barely understand how it works. Comic destruction ensures, of course.

But it's after our duo flees this hotbed of intrigue -- accompanied by a small bat -- and get stuck on another piece of planet that volume three truly kicks in. As depicted in "Revolutions," the floating isle proves a hazardous place for our heroes to be stranded: rapidly rotating over an ocean of molten something, the island forces our heroes to keep a-moving so they won't fall to their doom. Fleeing carnivorous plants and a pack of of ravenous carrion eaters, they meet a race of bears who have built a society around a villa on wheels. The ursine proletarians haul this villa sixteen hours at a stretch for eight hours of respite within the villa -- all for the benefit of Takmool, their diminutive overseer and his sexually avaricious wife and daughter.

As a metaphor for the workaday capitalist world, Sfar and Trondheim's story works beautifully, but, even more amusingly, the writers follow the mechanics of their cliffhanger set-up with pitiless comic logic. (We get to see more than one bear fall victim to the landmass' rotations.) In its core plot, "Revolutions" recalls one of Sergio Aragones' Groo comics, only with a somewhat more ribald take on things. As in Groo, the entry of outsiders into a precariously functioning system proves the catalyst for comic chaos.

The art by Kerascoet (Miss Don't Touch Me) and Obion captures both the comedy and melodrama of each respective chapter, though I have to admit that the latter's stylized renderings of the rabbit's ears (they appear to be disconnected from his head in some panels) can be disconcerting. Still, as an adult comic with satiric bite, visual inventiveness and engagingly fallible anthropomorphic heroes, New Centurions delivers the goods, particularly in its second half.

(First published on Blogcritics)


Labels: modern comics

# |


---
( 6/04/2010 05:51:00 AM ) Bill S.


WEEKEND PET PIC: Three of the OakHaus felines (Boomer, Xander and Boo) on the kitchenette table -- as taken by Becky.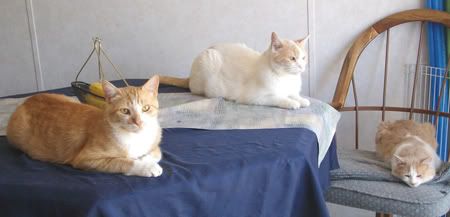 THE USUAL NOTE: For more cool pics of companion animals, please check out Modulator's "Friday Ark."
# |


---
( 6/02/2010 07:01:00 AM ) Bill S.
"PEOPLE LIVE WITH THE IMPERCEPTIBLE EVERY DAY." A young adult manga series that "pits beautiful men against calloused criminals in a battle for the streets" (to quote the oddly phrased back cover), Youka Nitta's Otodama: Voice from the Dead (Digital Manga Press) is a procedural mystery with a dose of the preternatural. Kaname Otonashi, one of the series' two sharp-dressed detective heroes, is a forensic sound man who also can hear the screams of the dead -- though his solutions to the crimes placed before him depend more on his techno savvy than they do his ultra-sharp ears. His cohort, Yasuhide Nagatsuma (a.k.a. Hide), is a former cop now working as a p.i. The pair share history from Hide's time as police inspector and are brought back together over a series of serial murders

From this, the two form a partnership as "Stalker Busters" and are quickly thrust into a second case involving a terrorist bomber who rigs his devices to permanently deafen his victims. Doesn't take much guessing that this bomber'll have a connection to the sonically sensitive Otonashi, who along the way gets abducted by a necrophiliac photog. When he's rescued by his partner, we're given a hint about the depth of their emotional connection: "His voice always leads me down the right path," Otonashi says, "he's like a tuning fork."

Though Otodama flirts with yaoi male attraction in its storyline, Nitta keeps the focus on the duo's cases and the procedural details of each investigation. (Unlike, say, Isle of Forbidden Love, which uses its flimsy murder mystery as an excuse to get its two male leads together.) The supporting characters, Hide's brother Senior Superintendent Yashiro Nagatsuma, and the one strong female figure on the scene, Superintendent Tadaskhi, provide the institutional counterpoint to our free-wheeling free-lancers. Without making too much of it, there's a sense that the male/male partnership of Stalker Busters is less bound by the regs and politics than the male-and-female run police department.

Nitta (best known for more straightforward yaoi romances like Embracing Love) visually handles her crime material with a crisp and clear line work, without a lot of focus on the aftermaths of each crime. When we see our first victim, for instance, her body is obscured in the shadow as it hangs from a bridge. Too, as a scripter Nitta provides her heinous villains enough panel space to explain themselves: in the first volume, at least, the villains aren't so much "calloused" as they are damaged or full-blown nuts. In this empathy for the devil, Otadama has an affinity with mystery series like Kindaichi Case Files, making it something that should appeal to all but the most culturally timid crime story buffs.

(First published on Blogcritics.)


Labels: sixty-minute manga

# |


---
( 5/31/2010 07:03:00 AM ) Bill S.
"SHOW RAMEN PROPER RESPECT!" I remember going through a heavy ramen noodle period when I was in college. To a typical poverty-stricken English grad student, the inexpensive packaged blocks of noodles made for filling fare -- particularly if you dropped an egg into the hot water -- and I couldn't help happily recollecting some of those meals as I read through Kenji Sonishi's collection of four-panel comic strips, Neko Ramen (Tokyopop). As Sonishi half-jokingly states in a back-of-the-book interview, ramen noodles are the Japanese version of "soul food."

A strip about a cat who (wrongly) fancies himself a Class-A ramen noodle chef, "Neko Ramen" is an appealingly loopy concoction. The simply drawn comic primarily focuses on Taisha, the ramen loving feline, and Tanaka-san, a "salary-man" who appears to be the only regular customer at the feline's noodle shop. The central gag revolves around Taisha's unwillingness to acknowledge that a.) he's a cat and b.) he's a lousy chef, besides. In one memorable strip, for instance, we see the cat attempt to make rice balls, wholly oblivious to the fact that fur is sticking into the rice. In another, Tanaka asks to use the restaurant's rest room, only to learn it's a cat box in the corner. Why the young businessman continues to lunch at Tasiha's shop is never openly explained, though it's clear that he has affection for the cantankerous kitty.

Between several stretches of four-panel strips, Sonisha includes some longer stories designed to flesh out Taishi's history, including an origin story where we learn that the cat's father was a famous model. Most gag strip characters don't manage the successful transition into longer stories -- the shift in storytelling rhythm can be deadly -- but these longer pieces prove just as amusing. Sonishi's style is come at his jokes sideways, focusing more on the reactions to an outlandish situation more than on the punchline itself, and if the results often border on silly more than laff-out-loud funny, Neko Ramen should still be appealing to comedy fans with an affinity for the absurd.

I know that the poverty-struck grad student within me definitely digs it.

(First published on Blogcritics.)


Labels: sixty-minute manga

# |


---
( 5/30/2010 10:43:00 AM ) Bill S.


WEEKEND PET PIC: Here's a foto of our newest housemate, Boomer Cat, looking like he knows somp'n you don't know: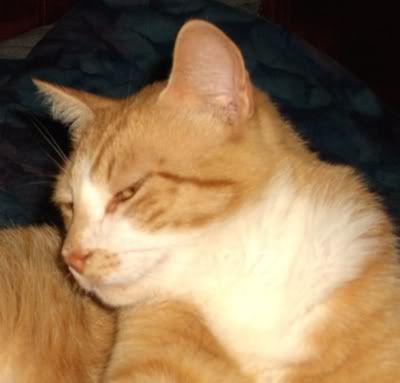 THE USUAL NOTE: For more cool pics of companion animals, please check out Modulator's "Friday Ark."
# |


---