( 6/26/2010 07:06:00 AM ) Bill S.


WEEKEND PET PIC: Been a quiet week around these parts, but that won't stop me from posting a pic (taken by Becky) of Boo Cat in repose: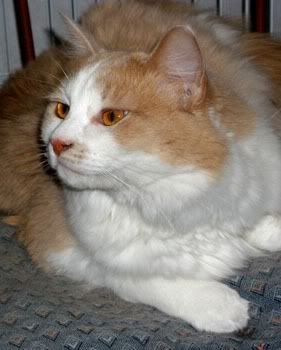 THE USUAL NOTE: For more cool pics of companion animals, please check out Modulator's "Friday Ark."
# |


---
( 6/23/2010 06:19:00 AM ) Bill S.


"JUST TO KNOW I'M NOT THE AVERAGE SUCKER." Twenty-six years ago, this guy here got married at the Chapel of Templed Trees in Funk's Grove outside of Bloomington, IL. Most days I'm amazed at all that my wife has put up with all these years.





# |

( 6/23/2010 05:24:00 AM ) Bill S.

MID-WEEK MUSIC VIDEO: I've been unable to get this catchy NSFW musical "Message for Homophobes" out of my head since my loving wife first pointed me to it. Now I'm passing on the favor to you.






You're welcome.
# |


---
( 6/22/2010 06:07:00 AM ) Bill S.
"I WANT TO HAVE AN EPIC ROMANCE, THE KIND THAT SHATTERS BOTH HEAVEN AND EARTH!" With the current repackaging of Natsuki Takaya's hyper-popular shojo romance Fruits Basket in "ultimate" hardcover editions, fans of the still-active manga artist, looking for new material have doubtless already snapped up Songs to Make You Smile (Tokyopop). An anthology of earlier short romances with two more recent pieces added, Songs proves nowhere near as emotionally colored as Takaya's fantasy opus, though it does touch on themes that crop in her fuller series. Writing of her older pieces, she notes that while they may be "a little out of control," they "show traces of the current Takaya."

Two of the early tales, for instance, focus on the difficulties that her introvert male heroes face in being emotionally open. In "Ding Dong," for instance, a teenage girl obsesses over a father who remained so emotionally distant that he was unable to even hand her presents at Christmastime. In another, a quiet boy who sings in a pop band is unable to relate to his high school peers because he was born with a disapproving expression on his face. "If we could see the scars in people's hearts," he says, "maybe we would stop getting hurt."

Per the collection's title, two stories center on music as the protagonists' way to more openly express themselves -- just the sort of theme you can imagine a young struggling manga artist to focus on -- though it's not all adolescent angst in this book. The final entry, a jokey riff on the universe of her more recent series Tsubasa: Those with Wings focuses on a bipolar Snow White figure who drives all the handsome men in her kingdom into thoughts of murder. "I'm so lonely, I get irritable," the beautiful but cranky princess explains at one point. This moment of self-realization doesn't stop her from tormenting her servants by making them bungee jump off the side of the castle, however.

Though the last story could probably use a somewhat broader visual approach than the artist seems willing to utilize, the art in Songs has a yearning tone to it that well suits the remaining tiny tales of romance and new connections. If the earlier works are a trifle artistically "out of control," it isn't to their detriment. While I don't think this volume is the one to use to introduce a newcomer to this popular shojo artist -- the melancholy fantasy Fruits Basket is still the way to go here -- I can't see fans ultimately feeling cheated by this open-hearted collection.

(First published on Blogcritics.)


Labels: sixty-minute manga

# |


---
( 6/20/2010 04:03:00 PM ) Bill S.


WEEKEND PET PIC: A photo of Boomer Cat, as snapped by Becky: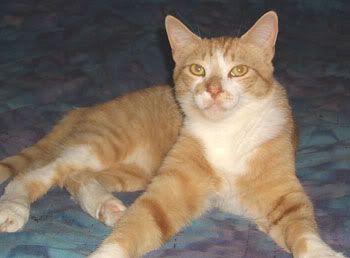 THE USUAL NOTE: For more cool pics of companion animals, please check out Modulator's "Friday Ark."
# |


---